AUGUST 2020
COVID-19 and Iron Zoomposium | Virtual Meeting
In early September, The European Iron Club was due to have a conference in Oxford, which as you know has been postponed until April 2021. The European Iron Club has decided to hold an online Virtual Meeting about Iron in COVID-19.

Emerging studies are showing that marked changes in iron homeostasis occur in COVID-19 and appear to be linked to disease severity. In this event speakers from around Europe will discuss their findings and their views on these issues. There will also be a presentation on how we might act together and share data to address key questions on the role of iron in this disease that has affected us all.
Online attendance at this Zoomposium is free, the meeting will be held from 11.00am UK time (12.00 noon Central European time) on September 8.
If you would like to attend, please register by sending an email to EIC21@archer-yates.co.uk giving the following details: Your Name, Organization, Role. A zoom link will then be emailed to you on September 7th.
Programme (download)
JUNE 2020
Prof. Pierre Brissot | Hemochromatosis: What's important and new in 2020?
Webinar, given June 10th, 2020 for the IACH (International Association of Clinical Hematologists).
EFAPH AGM 2020 | Schedule Change
Hereby the EFAPH executive board would like to inform you that the EFPAH AGM scheduled to September 6th, 2020 will not take place as a face-to-face meeting. This is due to the pandemic and the fact that the organizers of the EIC-meeting 2020 in Oxford – planned for September 2nd – 5th – postponed the conference to April 14th – 17th, 2021.
We will shortly inform you when and how we organize a virtual AGM in 2020 to have an exchange on your current topics and to approve the activity and financial reports. Regarding the EIC schedule we plan to have our AGM 2021 on Sunday, April 18th in Oxford.
APRIL 2020
In memorian Professora Maria de Sousa
EFPAH is saddened to hear of the COVID -19 related death of esteemed immunolgist, Professora Maria de Sousa of the University of Porto, Portugal on April 14th, 2020.  Prof de Sousa died in intensive care following a week of hospitalisation at Hospital São José in Lisbon.
The following text is based on the original article published in Portuguese, in Publico on 14th April 2020.
In paying tribute to Prof de Sousa, Professor Graça Porto, said 'She will be remembered as one of the greatest scientists of her generation. She always put science ahead of a life of personal comfort. She was never concerned with positions or titles, but her influence as a leader was inevitable, such was her visionary spirit in all areas – in science, teaching and even in personal relationships.'
Prof de Sousa graduated in Medicine in 1963 and had a long and distinguished career in scientific research working in England, Scotland and the USA as well as Portugal. From 1978 she began to dedicate herself to the study of a possible function of the immune system in protecting against iron toxicity. This led her to study the immune system in patients with a genetic disease of iron overload – hereditary hemochromatosis, a disease more frequent in the North of Portugal than in the rest of the country. In 1985 Prof de Sousa created a research team across three institutions of the University of Porto to investigate haemochromatosis.
In addition to many academic awards for her enormous contributions to scientific research and academia in Portugal, Prof de Sousa was recognised with three different presidents of Portugal awarding her the highest possible decorations for her service to the country. President Marcelo Rebelo de Sousa acknowledged her as 'someone who had a broad view of the world, who was not confined to academia, but who enthusiastically embraced the relationship between knowledge and society, science and art'.
EFAPH thanks Professora Maria de Sousa for her great work on behalf of all those with hereditary haemochromatosis.
FEBRUARY 2020

HARI News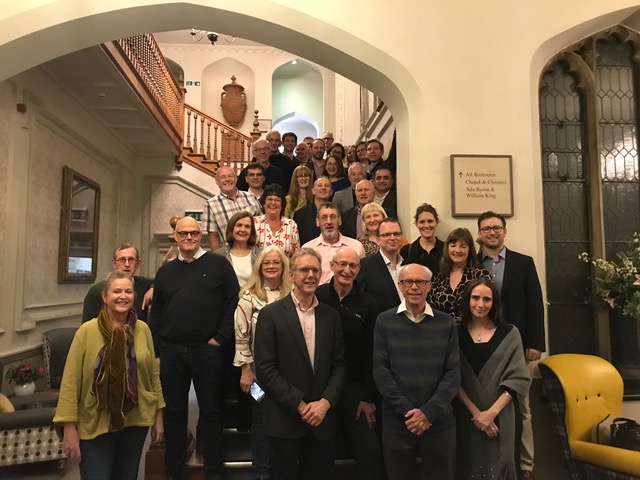 In September 2019 the application from the HARI group to build a EULAR task force on classification criteria was accepted. Patrick Kiely as convenor of the task force organized an excellent 3-days-meeting in London in late January 2020. Members of the task force are rheumatologists, hepatologists, haematologist, GPs, nurses and patients from 11 countries, including Australia and USA. At the first evening Patrick explained the difference between diagnostic and classification criteria which are standardized definitions to create well-definded homogenous cohorts for further clinical research. Day 2 started with a summary of the systemic literuature review SLR from Stephanie Finzel and Svenja Engelhardt from Freiburg, Germany. They showed what the medical literature tell us about the Characteristics of Haemochromatosis Arthropathy HA.  In a great discussion between experts and patients candidate classification criteria items on patients' symptoms, investigation signs, imaging and histological characteristics were listed. To reduce this long list a so called Delphi process was performed by voting to include, amalgamate or discard items. A lively discussion leads to the definition of a original HA group with C282Y homozygosity and proof of iron overload either by high transferrin-saturation, iron load in the liver by MRI or liver biopsy or certain number of phlebotomies in the past. As control groups/mimics were defined: a) all other genotypes with or without iron overload, b) CPPD arthropathy, c) osteoarthritis.
The next step is to test the 15 candidate criteria items in a multinational, multicentre study with 150 cases  in all 4 groups. After a biostasticial analysis of the data from cases and controls a validation cohort will be tested. The aim ist o finalize the classification criteria in late 2021.
MAY 2019
HemoNews7 | English (download)
According to the EFAPH Secretary, Françoise Courtois "The coming AGM in May, 2019 in Heidelberg will see significant changes to the personnel of the EFAPH Board. In particular, our President of 10 years Barbara Butzeck will be stepping down and I would like to reduce my workload and to begin to train a new general secretary. We already have a new member society in Swedenthe 15th EFAPH-member and several new volunteers are helping the EFAPH community: Dag Erling Stakvik from the Norwegian Society is the new patient ePAG representative (EuroBloodNet) and Howard Don from the HUK is responsible for EFAPH's dealings with EPF."
MARCH 2019
15th EFAPH Annual General Meeting, Heidelberg, Germany
EFAPH Annual General Meeting will take place on thursday May 9th 2019, from 4.30pm to 6.00pm during the 8th Congress of the International BioIron Society which will be held from 5th May until 10th May.
The International Haemochromatosis Patients'Meeting will take place on friday May 10th 2019, from 9.00am to 4.00pm. The venue for whole meeting will be the ATC Building.
The agenda of the 2019 EFAPH AGM and International Haemochromatosis Patients'Meeting is available for download.
Information about the 8th Congress of the International BioIron Society is available in the official website.
HARI News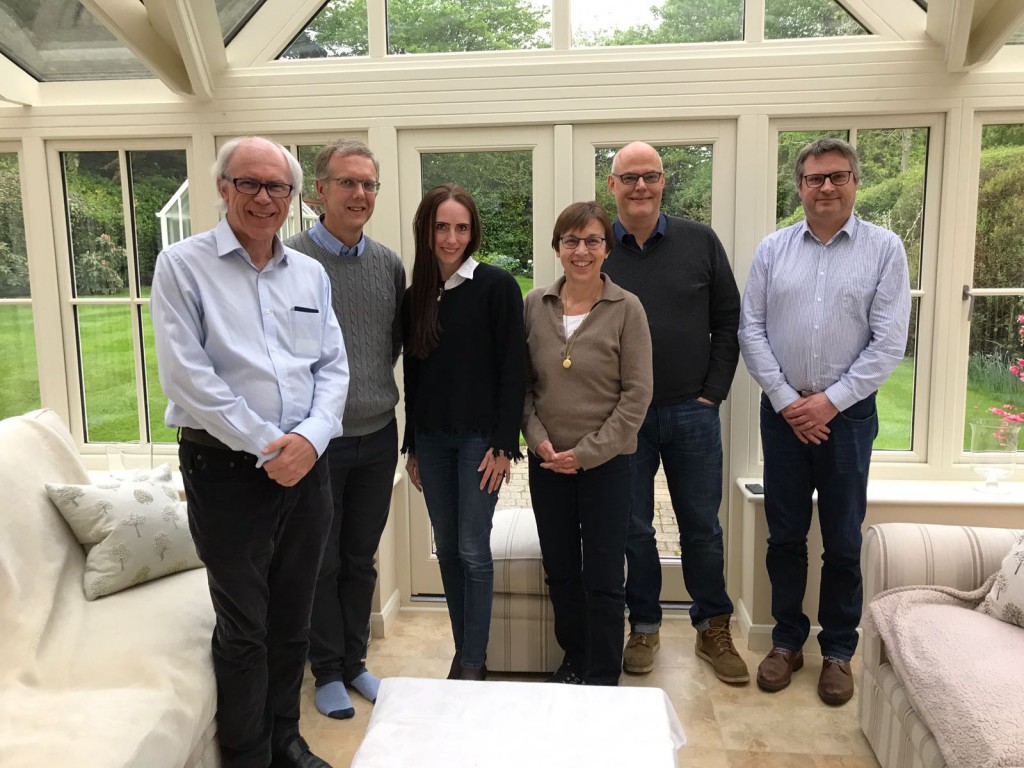 -HARI has two new members: Prof. Helen Keen from Australia and Dr. György Nagy from  Hungary.
-HARI was accepted at the American College of Rheumatology (ACR) as study group in 2017 at the San Diego Meeting, 2018 at the Chicago conference and in 2019 Atlanta. HARI was represented by Patrick Kiely, Stephanie Finzel, Graeme Carroll (2017) and Helen Keen (2018).
-The HARI group is accepted as EULAR study group (European League against Rheumatism) for Hemochromatosis-Arthropathy and will held the first conference at the EULAR conference in Madrid in June 2019, with the perspective of building a task force for HH-Arthopathy in the future.
-Two new papers were adopted in November: Could it be the arthritis that occurs in Haemochromatosis? and Osteoporosis and Genetic Haemochromatosis.
JUNE 2018
World Blood Donor Day
MAY 2018
World Haemochromatosis Week 4-10 June 2018
Is the world pumping too much iron?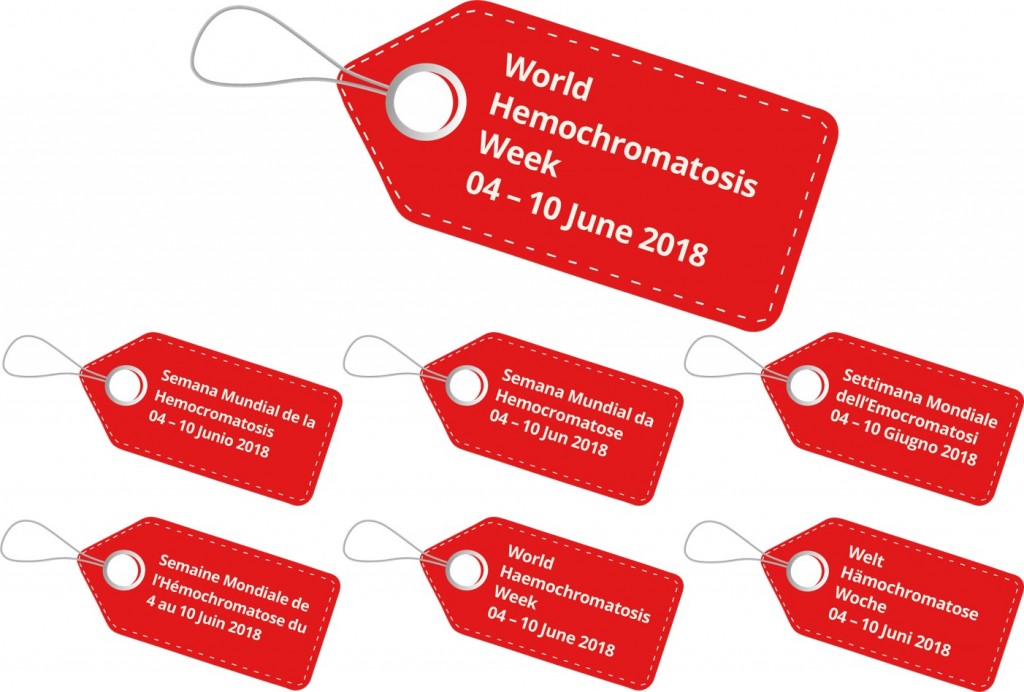 New research and new guidelines recommend early diagnosis and treatment for one of the world's most common genetic conditions.
Iron overload or haemochromatosis, is a serious condition in which too much iron is absorbed and stored in the body. It can cause liver cirrhosis, liver cancer, arthritis, diabetes and general fatigue.
World Haemochromatosis Week, which kicks off today, aims to strengthen awareness of iron overload as early diagnosis will result in better health outcomes for individuals as well as huge savings for a country's health care system.
Haemochromatosis groups worldwide, including European Federation of Associations for Patients with Haemochromatosis EFAPH, have joined in a push to raise awareness and improve the rate of early diagnosis of this prevalent but all too often overlooked condition.
Through international collaboration, a task force of haemochromatosis experts has agreed upon an objective, simple and practical set of therapeutic recommendations for managing hereditary haemochromatosis, which are applicable around the globe.
President Dr. Barbara Butzeck of EFAPH welcomes this landmark guideline, noting that although haemochromatosis the most common genetic disorder in Europe it is still widely under-diagnosed.  "About one in 200 people of European origin have the genetic predisposition for haemochromatosis and additionally, one in 7 people are carriers of the gene that causes it".
"Haemochromatosis is under-diagnosed, partly because public awareness of the condition is low but also because its symptoms, including fatigue, depression and joint pain, are confused with a range of other illnesses. When undetected and untreated, iron overload can result in premature death," said Dr. Barbara Butzeck.
Although haemochromatosis is detected by simple blood tests, support groups around the world continue to hear familiar stories from people with significant health problems caused by a late diagnosis. Recent research by the Murdoch Children's Research Institute (MCRI) has shown that haemochromatosis should be treated even when iron stores are only mildly elevated.
The tragedy is that so many people suffer harm unnecessarily when timely management of their condition is simple, safe and effective. Haemochromatosis can easily be managed through blood donations which remove iron from the body and a diagnosis of haemochromatosis should be no barrier to a normal life.  Joining together world-wide to raise awareness of the condition should help prevent harm from haemochromatosis.
WHW Media Release | Full version (download)
MAY 2018
HemoNews 6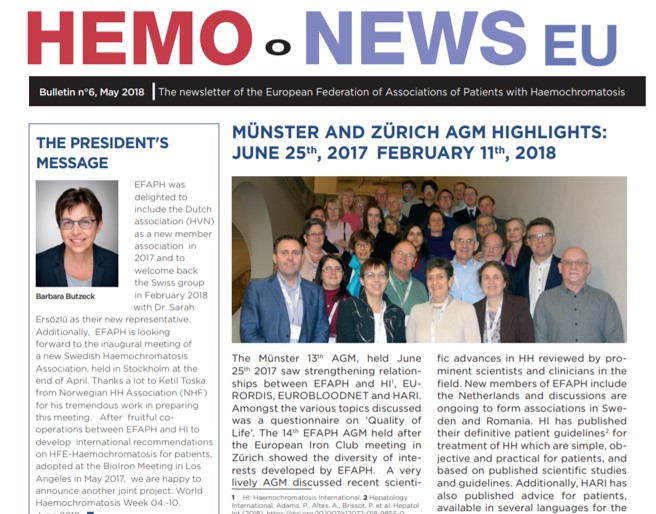 HemoNews 6 | English (download)
According to the EFAPH President, Barbara Butzeck "EFAPH was delighted to include the Dutch association (HVN) as a new member association in 2017 and to welcome back the Swiss group in February 2018 with Dr. Sarah Ersozlu as their new representative.".
APRIL 2018
Swedish Haemochromatosis Association | First Meeting
On April 21st, 2018, 9.00-16.00 Haemochromatosis patients, doctors and nurses are invited to meet at Huddinge Hospital,  Southern Stockolm. This meeting is organized by Mr. Ketil Toska, president of the Norwegian Haemochromatosis Association NHF and Vice-President of EFAPH. Besides Ketil Toska speakers will be Dr. Per Staal from Huddinge Hospital and Dr. Barbara Butzeck, EFAPH President and chair of HVD Germany.  The meeting language will be Swedish. Some presentations are in English.
Aim of the meeting will be to set up a Swedish Haemochromatosis Association.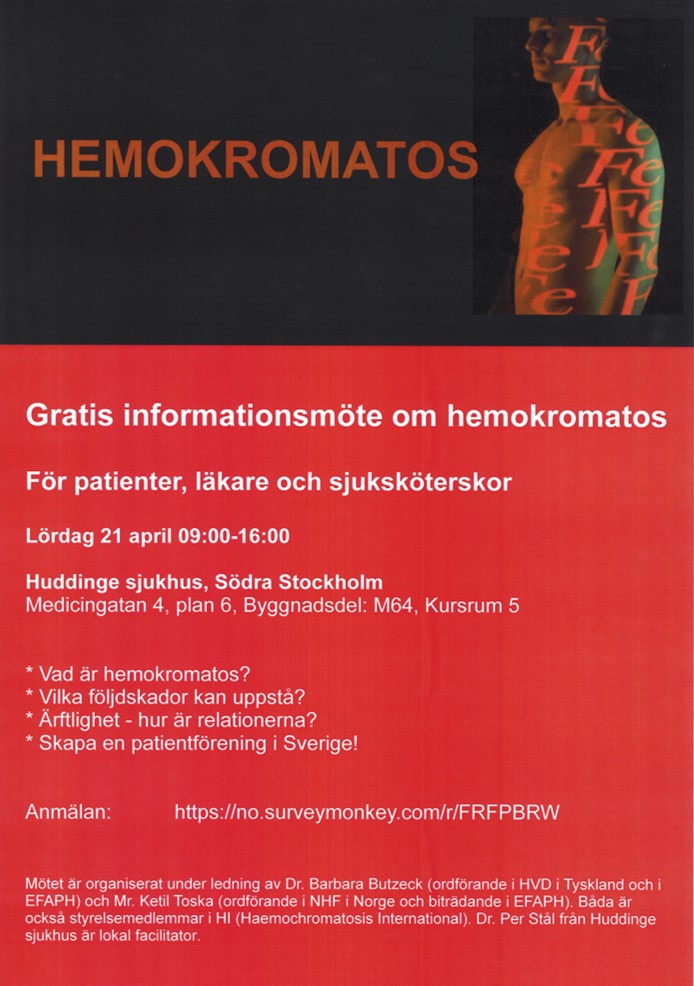 MARCH 2018
Therapeutic recommendations in HFE hemochromatosis for p.Cys282Tyr (C282Y/C282Y) homozygous genotype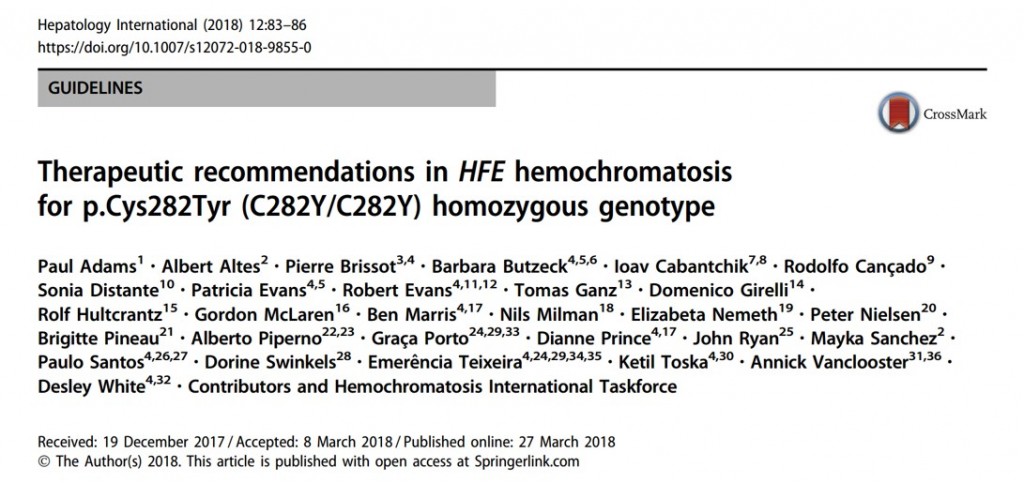 Although guidelines are available for hereditary hemochromatosis, a high percentage of the recommendations within them are not shared between the different guidelines. Our main aim is to provide an objective, simple, brief, and practical set of recommendations about therapeutic aspects of HFE hemochromatosis for p. Cys282Tyr (C282Y/C282Y) homozygous genotype, based on the published scientific studies and guidelines, in a form that is reasonably comprehensible to patients and people without medical training. This final version was approved at the Hemochromatosis International meeting on 12th May 2017 in Los Angeles.
English | Therapeutic recommendations in HFE hemochromatosis
French | Recommandations thérapeutiques dans l'hémochromatose HFE
German | Therapeutische Empfehlungen bei HFE Hämochromatose
Hungarian | Terápiás javaslat homozigóta genotípusú hemokromatózis kezelésére
Japanese | HFE ヘモクロマトーシスに対する治療推奨
Portuguese | Recomendações terapeuticas para a hemocromatose
Spanish | Recomendaciones terapéuticas en hemocromatosis
FEBRUARY 2018
HARI – Haemochromatosis Arthropathy Research Iniciative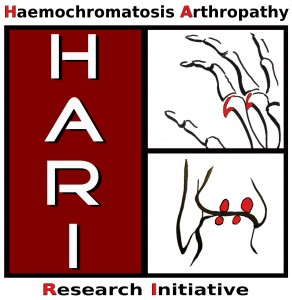 The HARI group is commited to improve the care of patients with haemochromatosis arthropathy. The aim of this group is to do this via patient and doctor education, research into disease mechanisms, clinical documentation, and translation of better understanding from all of these endeavours into better care.
The document "Treatment of Haemochromatosis Arthopathy – Advice for patients about treatment of haemochromatosis arthropathy" is now available in several languages: deutch, french, english and portuguese.
Deutch| Behandlung der Hämochromatose-Arthropathie
English| Treatment of Haemochromatosis Arthropathy
French | Traitement du rhumatisme hémochromatosique
Portuguese | Tratamento da Artropatia da Hemocromatose
JANUARY 2018
14th EFAPH Annual General Meeting, Zurich, Switzerland
EFAPH Annual General Meeting will take place on sunday February 11th 2018, from 8.30am to 2.30pm in the last day of the European Iron Club Congress which will be held from 8th February until 11th February. The venue for whole meeting will be the Audi Max, ETH Zurich.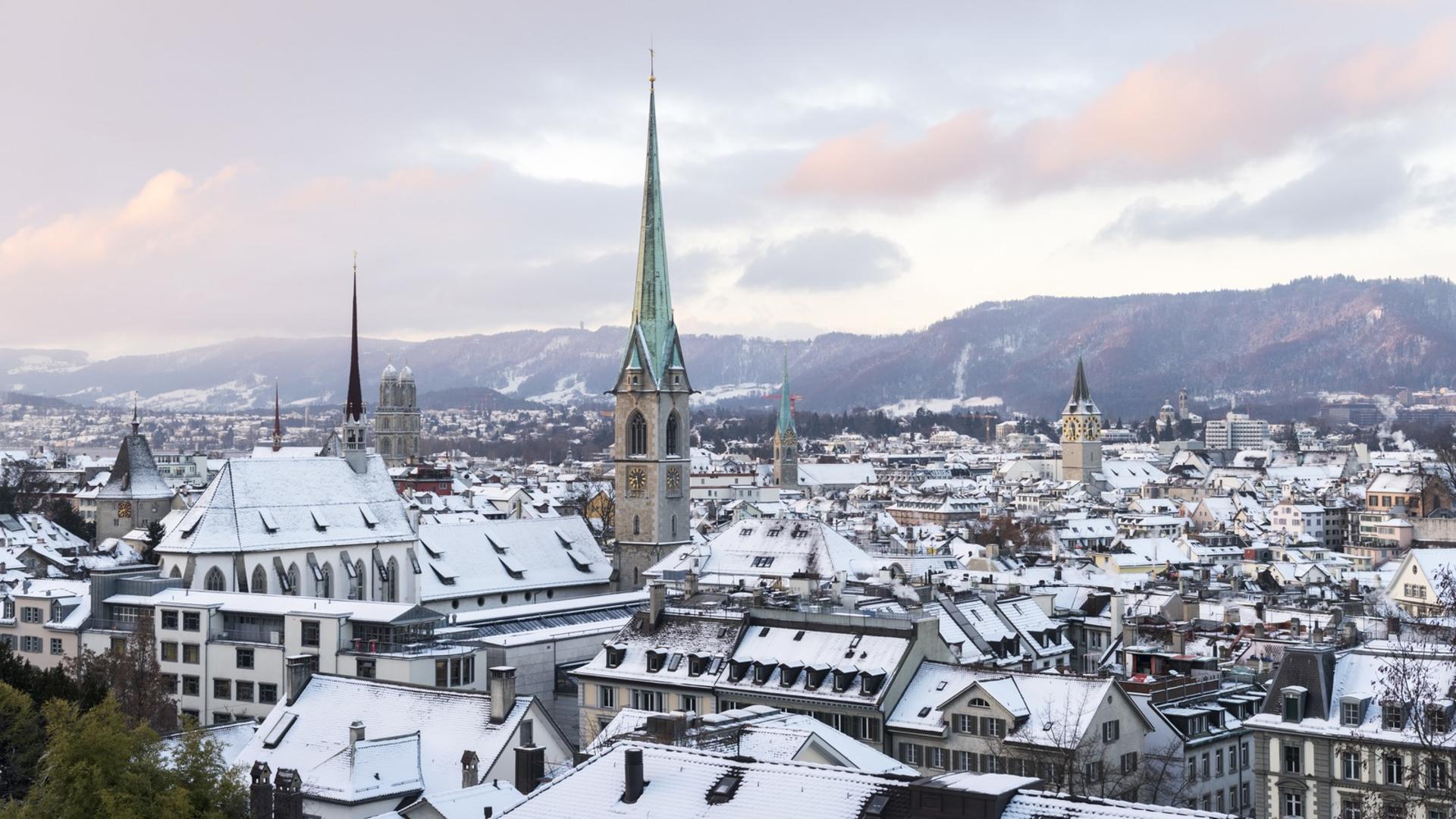 The agenda of 2018 EFAPH AGM is available for download here.
Information about the European Iron Club is available in the official website.
MAY 2017
Hemo News 5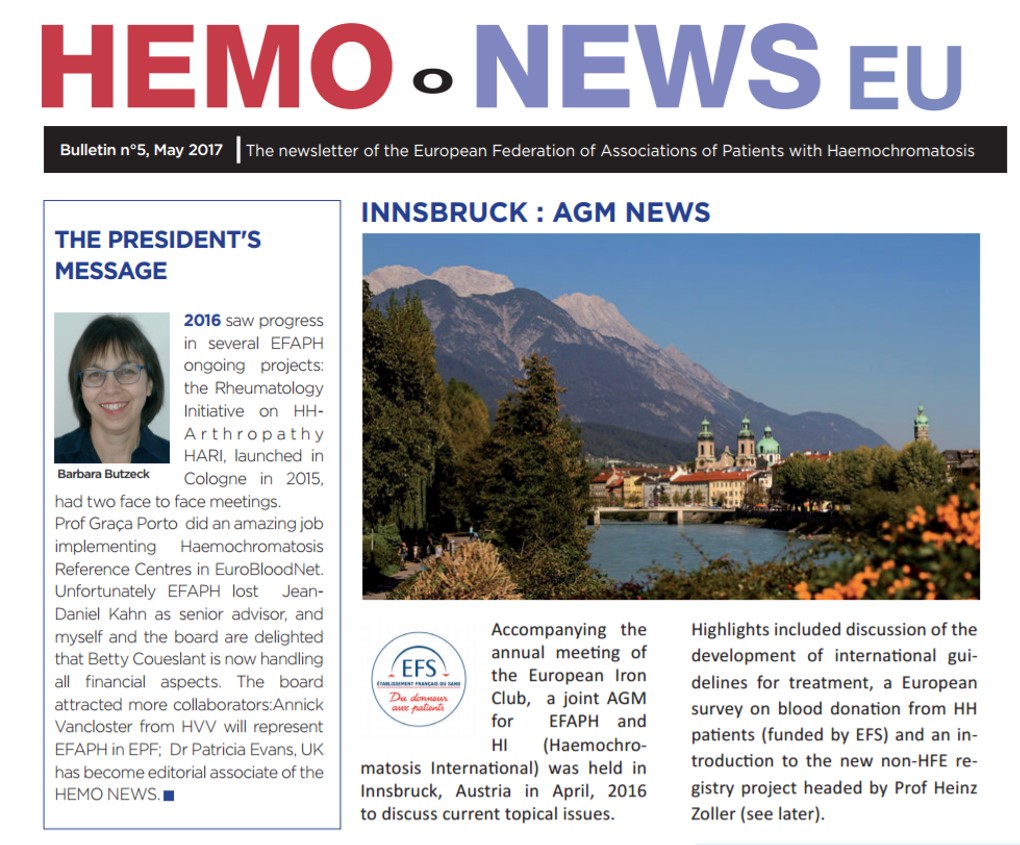 Hemo News 5 | English (download)
According to the EFAPH President, Barbara Butzeck "2016 saw progress in several EFAPH ongoing projects: the Rheumatology Initiative on HH Arthropathy HARI, launched in Cologne in 2015, had two face to face meetings. Prof Graça Porto did an amazing job implementing Haemochromatosis Reference Centres in EuroBloodNet. Unfortunately EFAPH lost JeanDaniel Kahn as senior advisor, and myself and the board are delighted that Betty Coueslant is now handling all financial aspects. The board attracted more collaborators:Annick Vancloster from HVV will represent EFAPH in EPF; Dr Patricia Evans, UK has become editorial associate of the HEMO NEWS."
APRIL 2017
13th EFAPH Annual General Meeting, Münster, Germany
EFAPH Annual General Meeting will take place on sunday June 25th 2017, from 8.30am to 12.30pm in advance of the EIC Congress which will be held from 2pm on sunday 25th June until 6pm on Monday 26th June.
The venue for whole meeting will be Stadthotel Münster, Aegidiistreet 21, 48143 Münster, Germany.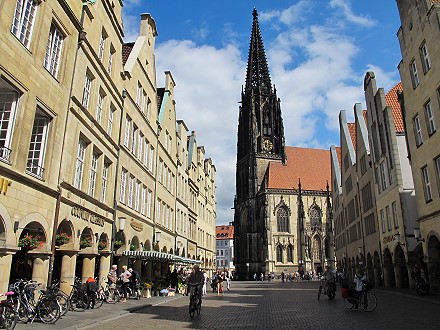 All the documents of the 2017 EFAPH AGM are available for download here:
–Letter to EFAPH members
–Agenda
–Registration Form
2017 European Iron Club information is available for download here.
APRIL 2017
HARI – a promising Research Initiative in Haemochromatosis Arthropathy
The HA – group was launched at the EFAPH AGM in 2015 Cologne. The group is composed of 7 rheumatologists from UK, France, Germany, Austria, Canada and Australia as as Barbara Butzeck from EFAPH as patient representative.
After 3 meetings in 2016/2017, the group is ready to publish advice for patients about treatment of HA. Subsequent documents will illustrate bone lesions and the pattern of HA to raise awareness of GPs and orthopaedic surgeons.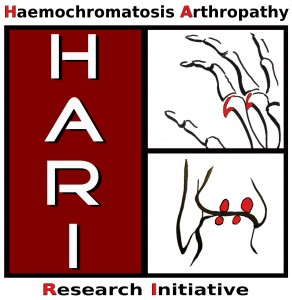 Advice for patients from the Haemochromatosis Research Initiative (HARI) download
FEBRUARY 2017
Rare Disease Day 2017
28 February 2017 marks the tenth international Rare Disease Day coordinated by EURORDIS. On and aeound this day hundreds of patient organisations from countries and regions all over the world will hold awareness-raising activities based on the theme of research. The Rare Disease Day 2017 slogan is 'With research, possibilities are limitless'.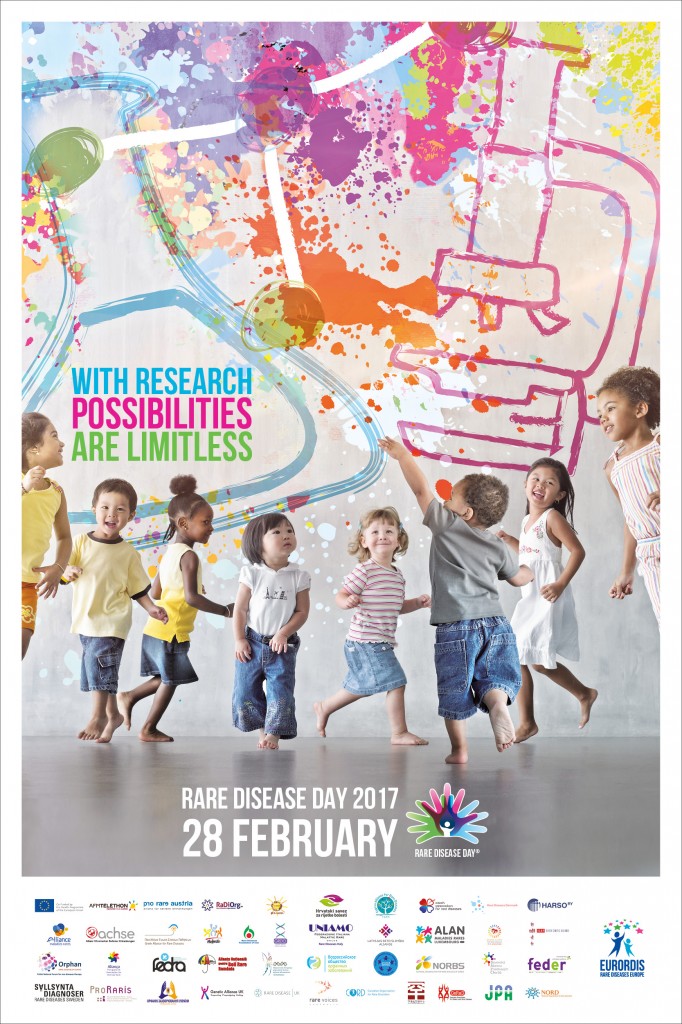 Rare Disease Day 2017 is also an opportunity to recognise the crucial role that patients play in research.
Patient involvement in research has resulted in more research, which is better targeted to the needs of patients. Patients no longer solely reap the benefits of research; they are empowered and valued partners from the beginning to the end of the research process. Patients:
–Advocate for research on a specific disease or across diseases. They know where research is needed and work to influence research bodies and companies to prioritise these areas in their research.
–Fund research. Individuals or patient organisations such as the AFM-Téléthon often raise money for clinical trials or research projects, on their own or in partnership with private funding iniciatives.
–Partner in research projects and are included in the governance of research.
–Participate as subjects in clinical trials and also in the design of clinical trials. They therefore help to ensure that the development of a medicine takes into account their real needs, so that the patient perspective is not overlooked.
NOVEMBER 2016
Treatment of Haemochromatosis Arthropathy
An international group of rheumatologists – founded in June 2016 with the aim to proceed in the research of haemochromatosis Arthropathy – publishs a first paper for the help pf HH-Patients. The project was iniciated at the EFAPH AGM in Cologne, October 2015.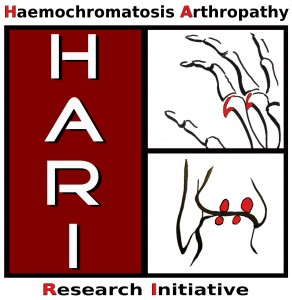 Advice for patients from the Haemochromatosis Research Iniciative (HARI) download
APRIL 2016
European Iron Club Annual Meeting April 7-10, 2016 | Innsbruck

EFAPH and Haemochromatosis International Annual General Meeting will take place on April 8th.
Scientific program of the 2016 meeting is available for download here.
MARCH 2016
Hemo News 4
According to the EFAPH General Secretary, Dr. Françoise Courtois "2015 has been a very important year. The AGM in Cologne was wonderfully organized by the German HH-Association HVD. New and noteworthy: the active participation of Haemochromatosis International (worldwide HH federation). The scientific sessions have been very informative and generated several collaborative projects. The Lisbon October meeting has been a key date in closing a tight relationship with EHA (EU Hematology Association) to implement a ERN (EU Reference Network) for Rare Hematological Diseases: the beginning of an intense and complex "love story"!"
NOVEMBER 2015
A Highly Successful Concert
A charity concert was organised in Paris on 23rd November 2015 to raise funds for EFAPH, with the internationally renowed pianist Yves Henry and the young violinist virtuoso Hildegarde Fesneau. After a masterclass around a Mazurka of F. Chopin, the two concert performers interpreted a Sonata of W. A. Mozart followed by a "whim" of P. de Sarasate. The concert was splendidly ended by several romantic opuses of F. Chopin interpreted by Yves Henry whose talent, culture and kindness made a conquest of the public. An exceptional evening!
Irish Haemochromatosis Association| Charity Heroes | Margaret Mullett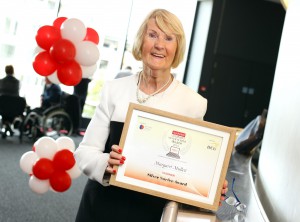 Margaret Mullett, president of the  Irish Haemochromatosis Association, got the Silver Surfer Award in October 2015 in Dublin and  as been nominated for the Charity Hero Award.
Margaret Mullet had dedicated the last thirteen years of her life raising awareness about the blood disorder Iron overload (Haemochromatosis) which is prevalent in Ireland and is very treatable once diagnosed. The number of patients now diagnosed and treated with the disorder has increased vastly since she has become involved in leading awareness for the disorder. She has advocated tirelessly for patients with medical personnel to ensure early diagnosis and access to treatment; with health and life insurance providers against discrimination of iron overload patients and with various Ministers for Health to seek better resources in addressing this disorder.
We would really appreciate if you would share the following link with your friends, family and colleagues and ask them to VOTE for Margaret. You can VOTE for MARGARET once a day until 4 December. http://2015.bettertogether.ie/charity-hero/margaret-mullett
OCTOBER 2015
EFAPH is a Haemochromatosis International Member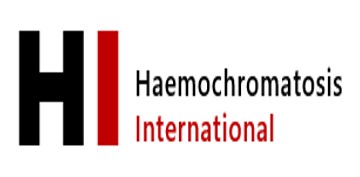 Haemochromatosis International (HI) is an alliance of haemochromatosis associations. They aim to advance the health of people with haemochromatosis in any part of the world.
They welcome membership from any Haemochromatosis Association, national or otherwise. For further information about the Haemochromatosis International please visit the website haemochromatosis-international.org
II European Reference Networks Conference
From planning to implementation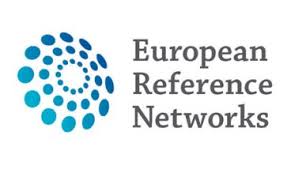 EFAPH was represented by Françoise Courtois and Graça Porto. EFAPH presentation is available for download
DG Health and Food Safety has organised the "2nd conference on European Reference Networks (ERN)" on 8-9 October 2015 in Lisbon, Portugal.
This 2nd conference, hosted by the Ministry of Health of Portugal, was included as an event of the Luxembourgish EU Presidency. The conference built on the success of the 1st conference on European Reference Networks, which took place in Brussels June 23rd 2014.
The conference focused on the implementation of ERN under the Directive 2011/24/EU with the goal to support interested highly specialised networks and centres of expertise across the EU already preparing for the call for ERN in early 2016. Further the draft of the assessment manual and toolbox to be used for the technical assessment of the Network proposals was presented.
JUNE 2015
Haemochromatosis & Blood Donation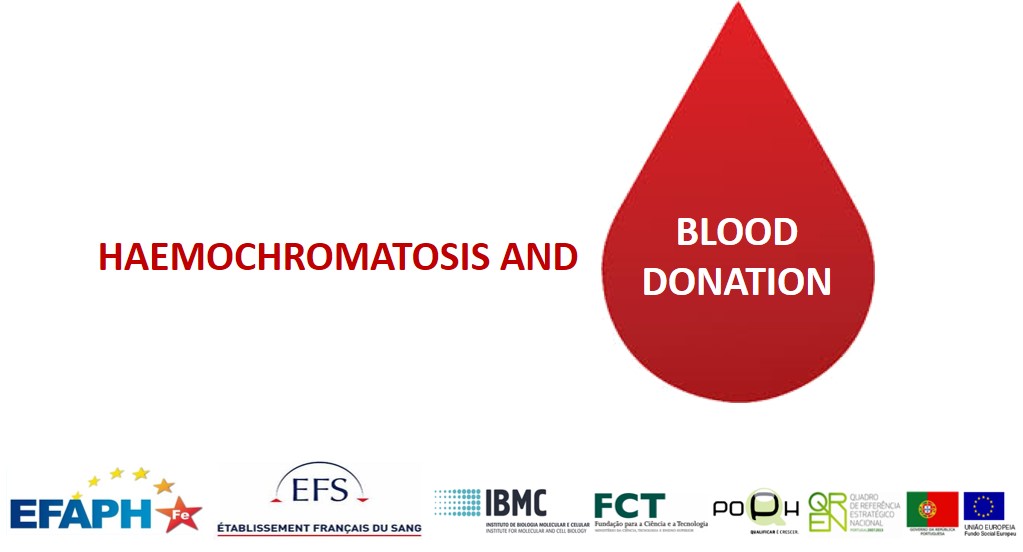 This project is aimed to: evaluate the current practices of blood donation from HH patients in different countries/regions from the perspective of patients or association members (as opposed to the published Blood Banks' perspectives); and understand how strongly the different policies regarding the acceptance or not of HH subjects as volunteer blood donors may affect them or affect the effectiveness of their preventive treatment.   For those purposes, an online survey was designed and validated and it's now online.
Now the questionnaire can be assessable in the following links in different languages.
> Danish
> Dutch
> English
> French
> German
> Hungarian
> Italian
> Portuguese
> Spanish

Financial support is partially provided by EFS (French Blood Establishment)
MAY 2015
Hemo News 3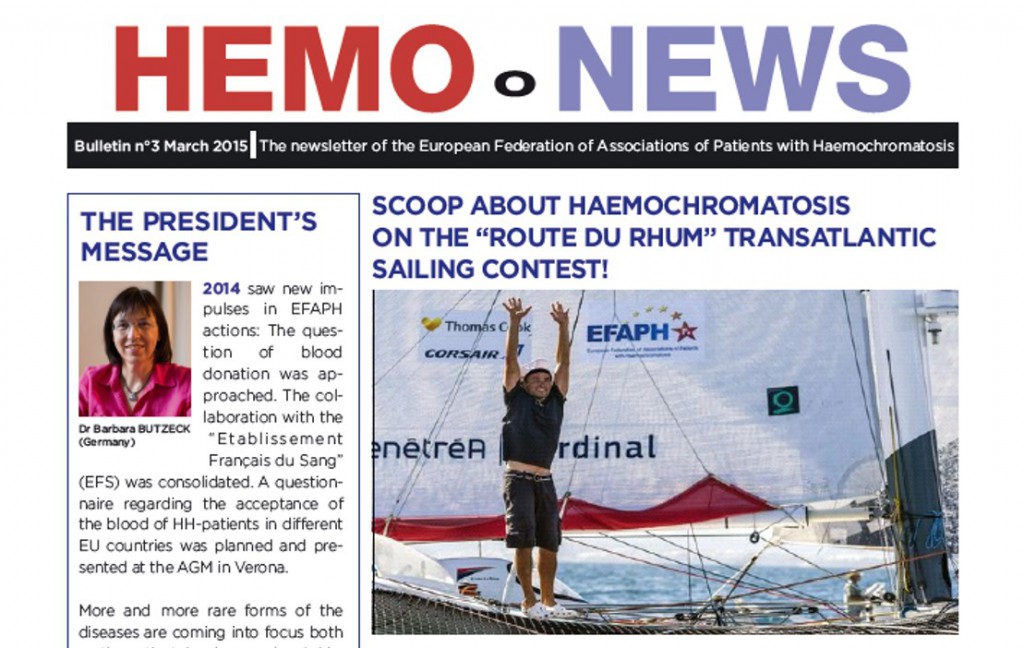 Hemo News | English Version
Hemo News | French Version
In the third issue of  EFAPH's newsletter the emphasis has been put, as usual, on the highlights from EFAPH's members Associations, the 2014 Verona AGM. Save the Date for the coming 2015 (Cologne, Germany) AGM. The multinational (European) dimension is also stressed with EFAPH's key projects: the Blood Donation Survey, the Arthropathy Taskforce and the internationalization of the HH GPs'awareness project. Last but not least, a formal Medical and Scientific Advances Section has been developed, borrowing from some National Members's litterature and from outside sources.
FEBRUARY 2015
Raise and Join your Hands to show Solidarity with Living with a Rare Disease!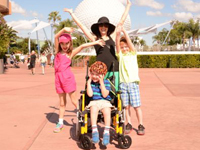 Whether you are with your family at home, 10 people in an office, 100 people at a conference or 1000 people at a public gathering: Raise and Join Hands to show your solidarity with people living with a rare disease around the world!
Help us show that we are all mobilised for people living with rare diseases and driven by the same objectives.
How can you participate?
Take your picture, joining and raising your hands and send it to us! It really is that simple. This symbolic gesture can be done before the Day or part of the activities you have already planned on the Day.
Record the event with a photo and send it us via our website. You can become part of the campaign and view your photo in our specific Flickr Photostream.
Remember to specify the location and the country where the photo was taken!
Rare Disease Day: February 28th 2015
When? The last day of February every year.
What? Rare Disease Day is to raise awareness for rare diseases and their impact on the lives of patients and families.
Where? Thousands of events around the world! EURORDIS organises the international campaign and National Alliances and other rare disease patient organisations hold events locally.
Who? For everyone! The Rare Disease Day campaign targets the general public and policy makers and anyone is welcome to join: patients and their families, patients organisations, health professionals, researchers drug developers, public health authorities – the more, the better!
How? Since the Rare Disease Day was created by EURORDIS in 2008, thousands of awareness – raising activities have taken place throughout the world reaching hundreds of thousands of people and generating local and international media attention.
On rarediseaseday.org you can find information about the thousands of events happening around the world to build awareness for people living with a rare disease and their families.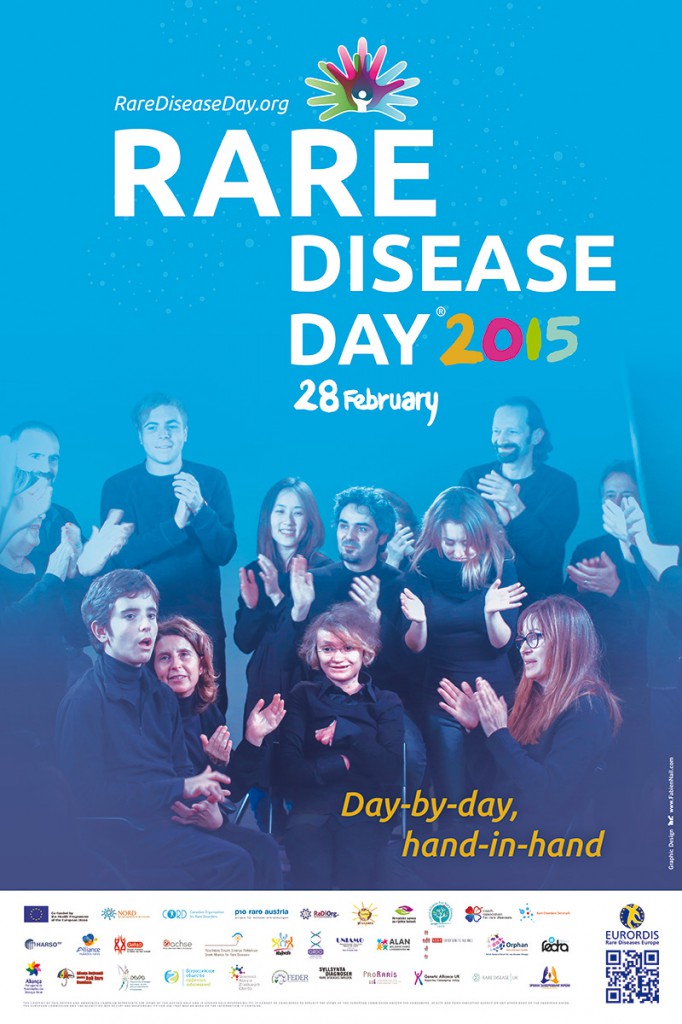 Save the date!
Next Annual General Meeting will take place in Cologne, Germany from Friday October 16th to Saturday October 17th , 2015 .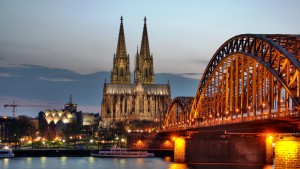 NOVEMBER 2014

:
Scoop about Haemochromatosis on the Route du Rhum transatlantic sailing contest
Erwan Le Roux winner of the Multi50 category onboard FenêtréA-Cardinal.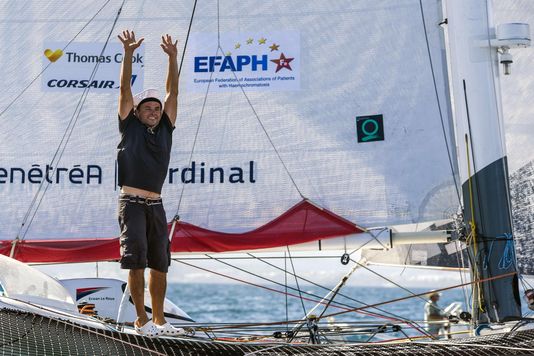 On the photograph, quite in evidence, the logo of the European Federation of Associations of Patients with Haemochromatosis-EFAPH.
Three days after Loïc Peyron, on Thursday, 13th. of November, Erwan Le Roux – FenêtréA-Cardinal – was the winner of the Multi50 category in the Route du Rhum sailing race. The standalone  Breton crossed over the Atlantic in eleven days, five hours, thirteen minutes and fifty five seconds". "He improved by twelve hours and fifteen minutes the reference time for Muli50 (15,24 meters multihulls) set in 2006 by Franck-Yves Escoffier (11d,17h and 28s)". "The fight has been tough with his main rival Lalou Roucayrol (Arquema-Région-Aquitaine) who was due to reach Pointe-à-Pitre during the night from Thursday to Friday"
Source: Internet Le Monde, November 14th. 2014
The European and French Haemochromatosis Federations as well as the associated regions/countries hail Erwan's victory and congratulate him wholeheartedly.
Bravo, Erwan!
We are proud to count Erwan as one of our embassaders. Thanks to him thousands of people have been made aware of haemochromatosis. The early diagnosis of the disease is necessary in order to avoid severe complcations (joints pains, heart problems, diabetes, cirrhosis…)
Source: Joël Demares, Chair Association Hémochromatose Ouest (France)
NOVEMBER 2014

:
Haemochromatosis and Route du Rhum
A magical transatlantic crossover
Hundreds of thousands of onlookers converged in Saint Malo (French Brittany) to watch the departure of the 10th Route du Rhum.
91 standalone skippers sailed off on November 2 to reach Point-à-Pitre (French Bermudas). This year AHO and FFAMH, members of the European Federation of Associations of Patients with Haemochromatosis (EFAPH) are closely following this remarkable sport event: skipper Erwan Le Roux sailed off onboard his trimaran FenêtréA-Cardinal, displaying the EFAPH logo on its main sail.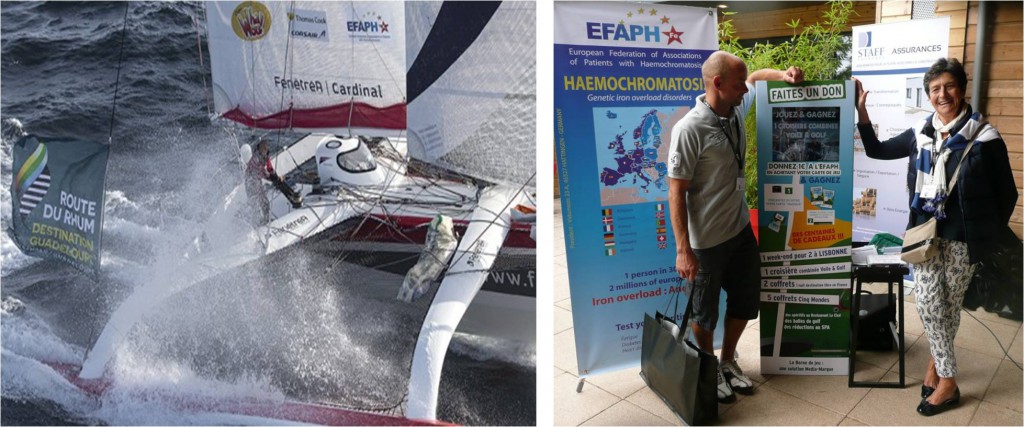 This partnership was initiated when Françoise Courtois, EFAPH Secretary General, met Erwan Le Roux in October on occasion of the ProAm Sail and Golf taking place at Cissé-Blossac (French Brittany). Erwan had spontaneously volunteered to support EFAPH in the latter's efforts to publicize haemochromatosis.
Let us follow proudly Erwan's endeavor and support him until he reaches Point-à-Pitre!
SEPTEMBER 2014

:
The 10th Annual General Meeting of EFAPH takes place Sept. 14th 2014 in Verona, Italy in the frame of the EIC meeting. http://european-iron-club.fr/
FEBRUARY 2014:
Am 17. Februar wurde der Verein "Hämochromatose Schweiz" gegründet. Wir gratulieren der Vorsitzenden Gerda Horn und Ihren Mitstreitern.
Weitere Information unter www.sh-haemochromatose.ch.
JANUARY 2014
EFAPH warmly welcomes two new members: from Denmark
The Danish interest group for Haemochromatosis
For more information visit: www.haemokromatose.dk
and from Belgium
Haemochromatose Vereniging Vlaanderen HVV
For more information visit www.haemochromatose.be.
DECEMBER 2013
The second EFAPH Newsletter is available. HEMO o NEWS 2 is ready for download in an English and French version.

NOVEMBER 2013
Le samedi 23 novembre 2013 Madame Dr. Françoise Courtois, Secrétaire Générale de la Fédération Européenne des Associations de Malades de l'Hémochromatose EFAPH a reçu l'insigne de Chevalier dans l'ordre national de la Légion d'honneur au Château du Val. Féliciations!
SEPTEMBER  2013
On Friday, October 4th our friends of the Cicé Blossac Golf in Bruz near Rennes, France organize for the third time a tombola for the benefit of EFAPH. Thank you very much!
Invitation and Tombola-Announcement (download)
APRIL 2013
The 2nd Meeting of the International Alliance of Haemochromatosis Associations IAHA and the 9th Annual General Meeting 2013 of EFAPH takes place April 19th, 2013 in London, UK.
(Agenda for download)
FEBRUARY 2013

Jeudi 21 février 2013 á Paris:
Un Récital de piano par l'artiste internationale Anne Queffelec au profit d'EFAPH – Salle Cortot (Paris 17ème).

Thursday, February 21st 2013 in Paris:
Extraordinary piano concert with the international artist Anne Queffelec for the benefit of EFAPH.
For more information and reservation see invitation (download) or contact Dr. Françoise Courtois, EFAPH via Email fcourtois.dom@wanadoo.fr
OCTOBER 2012:
The first EFAPH Newsletter HEMO o NEWS is available!
The Bulletin Nr.1 is ready for download in an English and French Version.
(Download HEMO NEWS English), (Download HEMO NEWS Français)
AUGUST 2012:
The Annual General Meeting 2012 of EFAPH takes place August 31st/ Sept. 1st 2012
in Rennes France. (Download)
JUNE 2012:
European Haemochromatosis Awareness Day June 7th 2012
Haemochromatosis is a genetic iron overload disease which could lead to death by liver cirrhosis and carcinoma. Early symptoms are tiredness and joint pain. In case of early diagnosis organ damage is highly preventable. To improve the awareness several national associations are organizing information events in their countries around June 7th 2012. Read more…

SEPTEMBER 2011:
EFAPH is delighted to present its work, projects and requests at a lunch-debate in the EU Parliament on Sept. 20th 2011.
Report (Download).
MAY 2011
EFAPH heißt die Schweizer Hämochromatose-Selbsthilfegruppe als neues Mitglied herzlich willkommen!
EFAPH cordially welcomes the new member from Switzerland!
FEBRUARY 2011
EFAPH warmly welcomes the new member from Italy:
Associazione per lo Studio dell'Emocromatosi e delle Malattie da Sovraccarico di Ferro
Find more information about our new member on:  www.emocromatosi.it