Rare Disease Day: February 28th 2015

When? The last day of February every year.
What? Rare Disease Day is to raise awareness for rare diseases and their impact on the lives of patients and families.
Where? Thousands of events around the world! EURORDIS organises the international campaign and National Alliances and other rare disease patient organisations hold events locally.
Who? For everyone! The Rare Disease Day campaign targets the general public and policy makers and anyone is welcome to join: patients and their families, patients organisations, health professionals, researchers drug developers, public health authorities – the more, the better!
How? Since the Rare Disease Day was created by EURORDIS in 2008, thousands of awareness – raising activities have taken place throughout the world reaching hundreds of thousands of people and generating local and international media attention.
On rarediseaseday.org you can find information about the thousands of events happening around the world to build awareness for people living with a rare disease and their families.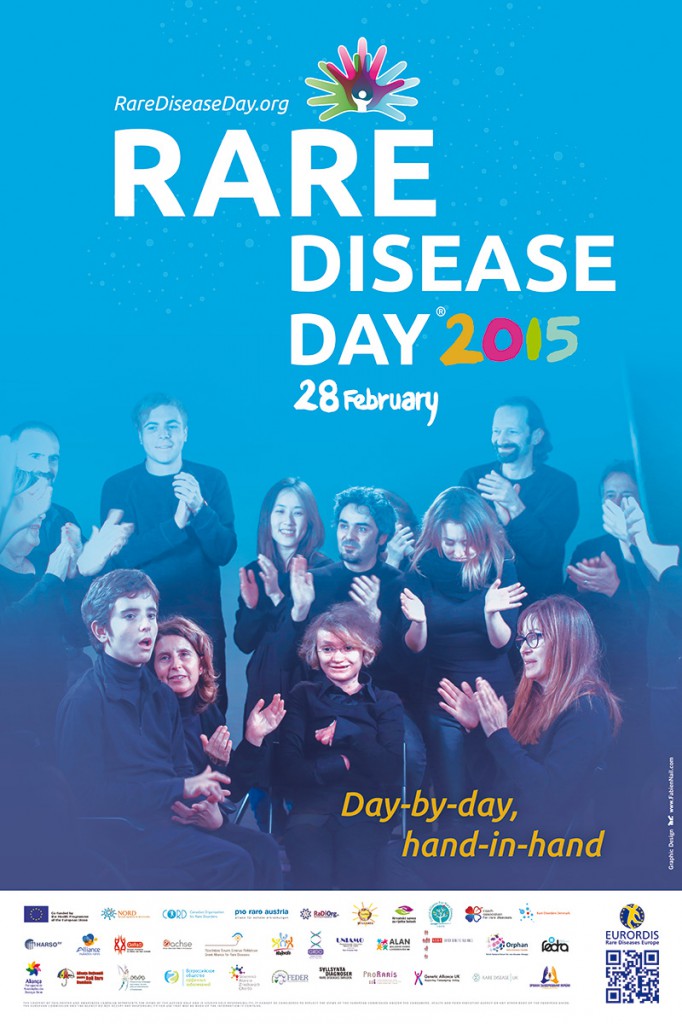 Save the Date

!
Next Annual General Meeting will take place in Cologne, Germany from Friday October 16th to Saturday October 17th , 2015 .
November 2014

:
Scoop about Haemochromatosis on the Route du Rhumtransatlantic sailing contest
Erwan Le Roux winner of the Multi50 category onboard FenêtréA-Cardinal.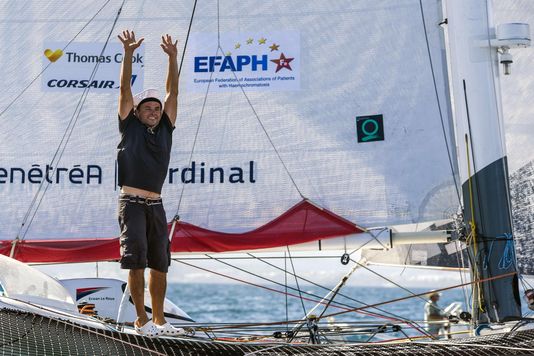 On the photograph, quite in evidence, the logo of the European Federation of Associations of Patients with Haemochromatosis-EFAPH.
"Three days after Loïc Peyron, on Thursday, 13th. of November, Erwan Le Roux – FenêtréA-Cardinal – was the winner of the Multi50 category in the Route du Rhum sailing race. The standalone  Breton crossed over the Atlantic in eleven days, five hours, thirteen minutes and fifty five seconds". "He improved by twelve hours and fifteen minutes the reference time for Muli50 (15,24 meters multihulls) set in 2006 by Franck-Yves Escoffier (11d,17h and 28s)". "The fight has been tough with his main rival Lalou Roucayrol (Arquema-Région-Aquitaine) who was due to reach Pointe-à-Pitre during the night from Thursday to Friday"
Source: Internet Le Monde, November 14th. 2014
The European and French Haemochromatosis Federations as well as the associated regions/countries hail Erwan's victory and congratulate him wholeheartedly.
Bravo, Erwan!
We are proud to count Erwan as one of our embassaders. Thanks to him thousands of people have been made aware of haemochromatosis. The early diagnosis of the disease is necessary in order to avoid severe complcations (joints pains, heart problems, diabetes, cirrhosis…)
Source: Joël Demares, Chair Association Hémochromatose Ouest (France)
November 2014:
Haemochromatosis and Route du Rhum
A magical transatlantic crossover
Hundreds of thousands of onlookers converged in Saint Malo (French Brittany) to watch the departure of the 10th. Route du Rhum.
91 standalone skippers sailed off on November 2 to reach Point-à-Pitre (French Bermudas). This year AHO and FFAMH, members of the European Federation of Associations of Patients with Haemochromatosis (EFAPH) are closely following this remarkable sport event: skipper Erwan Le Roux sailed off onboard his trimaran FenêtréA-Cardinal, displaying the EFAPH logo   on its main sail.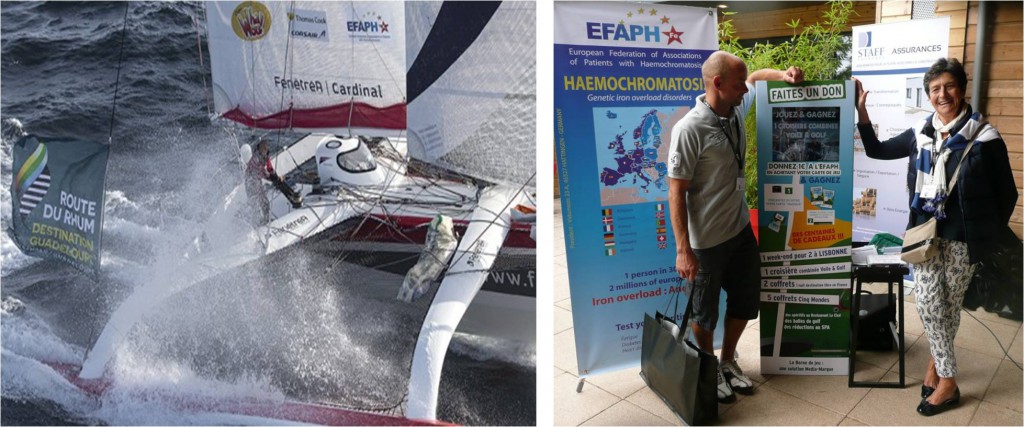 This partnership was initiated when Françoise Courtois, EFAPH Secretary General, met Erwan Le Roux in October on occasion of the ProAm Sail and Golf taking place at Cissé-Blossac (French Brittany). Erwan had spontaneously volunteered to support EFAPH in the latter's efforts to publicize haemochromatosis.
Let us follow proudly Erwan's endeavor and support him until he reaches Point-à-Pitre!
September 2014:
The 10th Annual General Meeting of EFAPH takes place Sept. 14th 2014 in Verona, Italy in the frame of the EIC meeting. http://european-iron-club.fr/
February 2014:
Am 17. Februar wurde der Verein "Hämochromatose Schweiz" gegründet. Wir gratulieren der Vorsitzenden Gerda Horn und Ihren Mitstreitern.
Weitere Information unter www.sh-haemochromatose.ch.
January 2014:
EFAPH warmly welcomes two new members: from Denmark
The Danish interest group for Haemochromatosis
For more information visit: www.haemokromatose.dk
and from Belgium
Haemochromatose Vereniging Vlaanderen HVV
For more information visit www.haemochromatose.be.
December 2013:
The second EFAPH Newsletter is available. HEMO o NEWS 2 is ready for download in an English and French version.

November 2013:
Le samedi 23 novembre 2013 Madame Dr. Françoise Courtois, Secrétaire Générale de la Fédération Européenne des Associations de Malades de l'Hémochromatose EFAPH a reçu l'insigne de Chevalier dans l'ordre national de la Légion d'honneur au Château du Val. Féliciations!
August 2012:
The Annual General Meeting 2012 of EFAPH takes place August 31st/ Sept. 1st 2012
in Rennes France. Agenda (Download)
September 2011:
EFAPH is delighted to present its work, projects and requests at a lunch-deabte in the EU Parliament on Sept. 20th 2011. Agenda (Download).
May 2011:
EFAPH heißt die Schweizer Hämochromatose-Selbsthilfegruppe als neues Mitglied herzlich willkommen!
EFAPH cordially welcomes the new member from Switzerland !

February 2011:
EFAPH warmly welcomes the new member from Italy:
Assoziazione per lo Studio dell'Emocromatosi e delle Malattie da Sovraccarico di Ferro
Find more information about our new member on:  www.emocromatosi.it